Appliance Repairs in Flint, MI
If you're looking for fast and professional appliance repair service, look no further than A1 Appliance Repair. For over 40 years, we've provided quality appliance repairs that are fast and friendly. If your appliance isn't working properly, give us a call and we'll have it up and running in no time!
Fast and Professional Appliance Repairs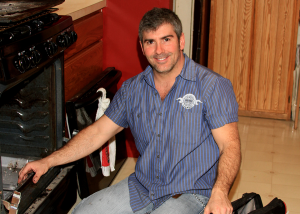 Let's face facts. In today's world, our appliances are an essential part of our daily lives. Just think of what would happen if your fridge or washing machine just decided to stop—an occurrence like this could easily throw your whole day off track! Thankfully, an easy solution is just a phone call away. For refirgerator, dryer, washer, and dryer repairs in Flint, Genesee County, Mt. Morris, and Genesee Charter Township, MI, just call A1 Appliance Repair. Our helpful appliance technicians will have your appliance up and running again in no time. When it comes to appliance repair in Flint, MI, we are the best in the business.
At A1 Appliance Repair, we pride ourselves on our fast, quality repairs. When you come to us, you can be confident that you'll get professional repairs and fast and friendly service at an affordable price. In fact, most people trust us more than factory service repairs. They know that, unlike our competitors, we care about our customers. With over 40 years' of satisfied customers to recommend us, there's no reason not to contact us for all your appliance repairs in Flint, MI. Here are just a few more reasons why we are the most-trusted source for appliance repair in Flint, MI:
We've been the leading provider of appliance repairs since 1977.
We work with a wide range of appliances and appliance brands.
We offer the best in fast and friendly customer service.
All our services are offered at competitive prices.
We service Flint, Michigan and all surrounding areas.
Offering appliance repair services in Flint, MI and the surrounding cities:
Burton, MI
Fenton, MI
Birch Run, MI
Linden, MI
Byron, MI
Gaines, MI
Davison, MI
Clio, MI
Elba, MI
Montrose, MI
Argentine, MI
Mt. Morris, MI
Genesee, MI
New Lothrop, MI
Flushing, MI
Otisville, MI
Holly, MI
Hadley, MI
Grand Blanc, MI
Swartz Creek, MI
Lennon, MI
Good Rich, MI